John Bacon

,

Jessica Flores

| USA TODAY
Why you didn't hear from COVID-19 contact tracers after your flight
The Centers for Disease Control and Prevention logged 1,600 COVID-19 investigations on commercial aircraft between January and August.
The U.S. death toll from the coronavirus quietly surpassed 200,000 on Tuesday, less than eight months after the first American fatality.
The U.S. reached 100,000 deaths in May. Now, some experts estimate the death toll could almost double by year's end.
Fatigue for social distancing and the push to get back into offices and schools could fuel new cases – and deaths – in the coming weeks and months. Experts at the Institute for Health Metrics and Evaluation at the University of Washington predict 378,321 deaths by January.
The nation marches on. Hollywood is primed to make a comeback after months of filming delays, and the Centers for Disease Control has issued guidelines for relatively safe Halloween celebrations. Traditional trick-or-treating gets the thumbs-down. And a public relations staffer at the National Institutes of Health is set to "retire" after being exposed for writing articles on a conservative website that attacked Dr. Anthony Fauci, who runs the agency.
Some significant developments:
Our travel writer David Oliver checked in at a few hotels to check out their coronavirus protocols. Here's what he found.
The Centers for Disease Control and Prevention walked back changed guidance on how the coronavirus spreads. On Friday, the CDC posted an update on its website saying 6 feet may not be sufficient to keep people safe and that ventilation was key to easing transmission indoors. But on Monday, the agency said the new guidance was a "draft version" that was "posted in error."
Some economists say the U.S. could fall into a double-dip recession if Congress fails to pass another coronavirus stimulus package.
📈 Today's numbers: Minnesota, Montana, Utah, Wisconsin, Wyoming and Puerto Rico set records for new cases in the week ending Monday. The U.S. has reported more than 6.8 million cases and 200,000 deaths, according to Johns Hopkins University data. Globally, there have been more than 31.3 million cases and 965,000 fatalities.
📰 What we're reading: Will Las Vegas room rates rise? Will shows return to The Strip? We asked an insider.
🗺️ Mapping coronavirus: Track the U.S. outbreak, state by state
This file will be updated throughout the day. For updates in your inbox, subscribe to The Daily Briefing newsletter.
Study: Up to 70% of KN95 masks from China don't meet filter standards
The KN95 mask is meant to filter out 95% of aerosol particles. However, nonprofit patient safety organization ECRI issued an alert against the masks after an analysis found that up to 70% of the KN95s imported from China did not meet these filtration standards. U.S. hospitals were forced to purchase hundreds of thousands of KN95 masks produced in China over the past six months. ECRI tested nearly 200 masks from 15 different manufacturer models purchased by some of the largest health systems in the country. There was not only variability among the different brands but also inconsistencies among masks made by the same manufacturer.
"We are concerned about the safety of health care workers and patients when using KN95s in high risk procedures and that's why we sent out the hazard alert," he said. "We don't use this lightly; we reserve that for immediate risk."
– Adrianna Rodriguez
Former White House coronavirus task force member Olivia Troye says "it was frightening" when President Donald Trump said the virus would disappear "like magic."
Troye, an ex-aide to Vice President Pence, told NBC News' "TODAY" show the task force was aware of how big COVID-19 would be in late January, before the first U.S. death. Troye said the president appeared dismissive of the virus.
"He said, 'When you're a politician, you have to shake a lot of hands. You have to shake a lot of hands. And these people are disgusting. It's gross. And so maybe, COVID'S probably a good thing, right? I don't have to shake hands. I don't have to do that anymore.'"
Pence has described Troye as a disgruntled employee while Trump says he does not remember ever meeting her.
NFL Commissioner Roger Goodell says he has no qualms about harshly penalizing coaches who violate the NFL's protocols mandating that they wear face masks while roaming the sidelines. The NFL on Monday fined three coaches – San Francisco's Kyle Shanahan, Denver's Vic Fangio and Seattle's Pete Carroll – at $100,000 each for disregarding the policy. Their respective teams were docked $250,000 apiece.
"It's consistent with the message," Goodell told USA TODAY Sports. "You can't let up. We've got to consistently do the things that have gotten us to this place and not think, 'OK, things have gone so well, so it's OK now.' It's not. You've got to stay on your toes and we've got to continue to be disciplined."
– Jarrett Bell
Dr. Anthony Fauci's appearance on Comedy Central's "The Daily Show with Trevor Noah" on Monday night was no laughing matter. Fauci denied having any political agenda and lamented the politicization taking place over public health protocols for combating COVID-19. He also acknowledged and decried the "confused messages" coming from the Trump administration and the Centers for Disease Control and Prevention.
"What has evolved now is that people almost take sides, like wearing a mask or not is a political statement, and that's really very unfortunate, totally unfortunate," Fauci said. "This is a purely public health issue. It should not be one against the other."
Historian sees irony in cancellations of Mayflower anniversary events
Many of the art exhibits, festivals and lectures planned to mark the 400th anniversary of the Mayflower's arrival at what is now Plymouth, Massachusetts, have been delayed or canceled because of coronavirus concerns, a development historian Elizabeth Fenn finds ironic. Disease introduced by traders and settlers – either by happenstance or intention – played a significant role in the "conquest" of Native people.
"The irony obviously runs quite deep," says Fenn, a history professor at the University of Colorado Boulder who has studied disease in Colonial America. "Novel infections did most of the dirty work of colonization."
The Centers for Disease Control and Prevention released updated guidelines highlighting different levels of risk for Halloween fun.
Pumpkin carving at home or outside at a distance from others, participating in a virtual costume contest or having a "scavenger hunt-style trick-or-treat search" at home are all considered lower risk.
Moderate risk activities include leaving grab-and-go goodie bags outside for trick-or-treaters, having a small, outdoor and socially distant costume parade and visiting a one-way, socially distant haunted forest with masks (greater distance is advised "if screaming will likely occur").
The CDC recommends avoiding higher risk activities such as traditional trick-or-treating, and indoor costume parties or haunted houses.
– Erin Jensen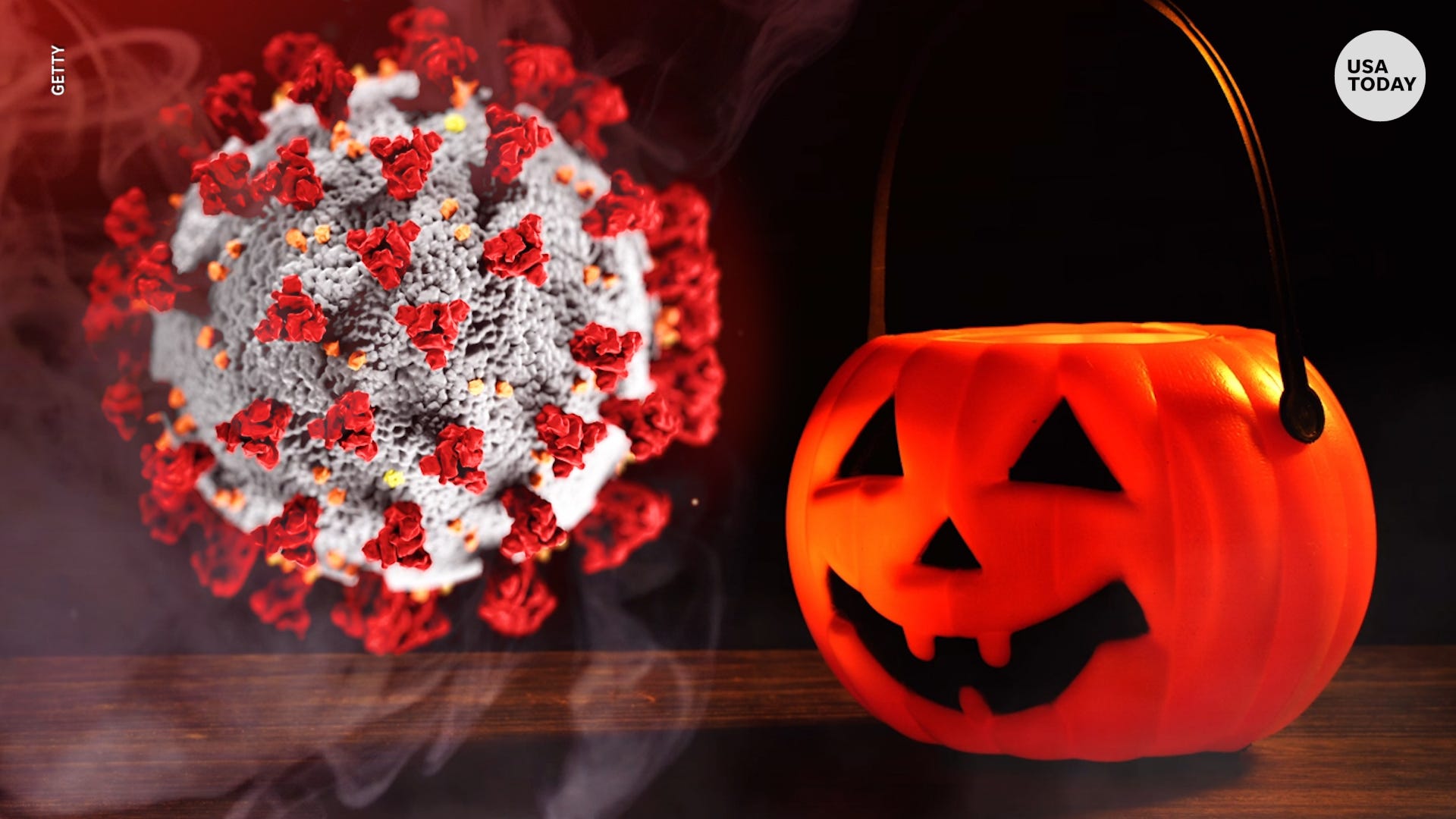 COVID: Will Halloween be the next event cancelled?
As the Halloween season approaches, people across the country may be asking themselves "should we stay, or should we go?"
The White House is urging U.S. governors to put politics aside and help the Trump administration promote future coronavirus vaccines as safe and effective. Vice President Mike Pence urged governors Monday to use their bully pulpits and reassure the public that vaccines will be safe to take after a rigorous vetting process by the Food and Drug Administration.
"What we don't want is people undermining confidence in the process," Pence said in a private call with governors, the audio of which was obtained by The Associated Press.
Trump has escalated his promise for a coronavirus vaccine before Election Day. But Democrats, independents and even some Republicans do not trust the Trump administration to produce a safe and effective vaccine on such an aggressive timeline.
British Prime Minister Boris Johnson will announce new restrictions on social interaction Tuesday as the government tries to slow the spread of the coronavirus before it spirals out of control. Cabinet Office Minister Michael Gove told Sky News that pubs and restaurants across England will be ordered to close at 10 p.m. and people who can work from home will be encouraged to do so, reversing a government drive to get people back to the office.
The new restrictions come a day after the government's top scientific and medical advisers said virus infections were doubling every seven days and could rise to 49,000 a day by mid-October if nothing is done to stem the tide.
– Associated Press
The National Institutes of Health said a public relations staffer who had been using a pseudonym on a conservative website to discount the seriousness of the coronavirus and attack Dr. Anthony Fauci, who runs the agency, and will retire.
The Daily Beast first identified and reported that William B. Crews was also the managing editor of right-leaning website RedState where, under the fake name "streiff," derided the government's work against the coronavirus outbreak, calling it "massive fraud." The articles directly contradict and demean the agency's recommendations about COVID-19. They also trash Fauci, the nation's leading infectious disease expert, calling him a "mask nazi," among other insults.
– Savannah Behrmann
While COVID-19 is known as a respiratory infection, there's emerging evidence linking it to heart damage, too. Cardiologists are seeing patients with signs of inflammation and scar formation in their hearts even after recovery from COVID-19, experts say.
For that reason, anyone who plans on participating in vigorous exercise and was sick with COVID-19 for three or more days should get a cardiac screening before working out or participating in their sport, said Dr. Steven Erickson, medical director for Banner University Sports Medicine and Concussion Specialists in Phoenix.
"You don't get sick with COVID-19 and stay home from school for a week and the next day go back and play two hours of soccer," Erickson said. "You're taking a risk, and that is not what the medical community is recommending right now."
Having assessed seriously ill COVID-19 inpatients since March, Arizona cardiologist Dr. Dawn Pedrotty said she has seen evidence linking the disease with cardiac damage. What's not clear is what that damage will mean for patients in the long term, but researchers and physicians are closely following the link, she said.
"It's an important public health message that it does affect more than your lungs," Pedrotty said.
– Stephanie Innes, Arizona Republic
Lights, camera, action: After months of planning and negotiating, Hollywood's unions and major studios have reached a return-to-work agreement. On Monday, The Directors Guild of America, the International Alliance of Theatrical Stage Employees, the International Brotherhood of Teamsters, the Basic Crafts unions and the Screen Actors Guild-American Federation of Television and Radio Artists jointly announced the deal reached with the Alliance of Motion Picture and Television Producers.
"The protocols pave the way for creative workers, who have been hard hit by the pandemic, to resume their crafts and livelihoods in workplaces redesigned around their health," the unions said in a joint statement.
Contributing: The Associated Press
tinyurl
is.gd
u.nu
clck.ru
ulvis.net
shrtco.de